about galaxy brain design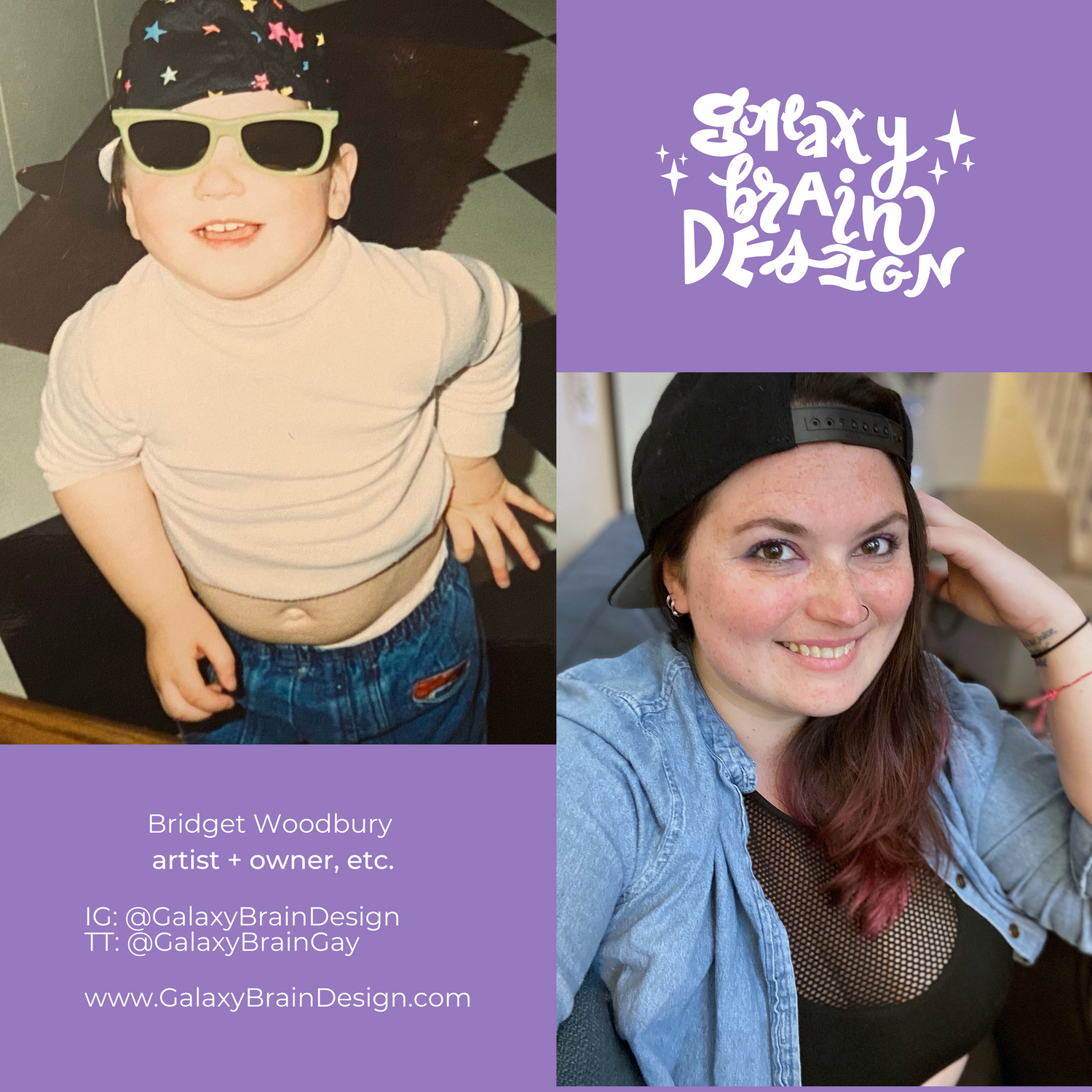 Collapsible content
about the artist

Hello, hello! I'm a white, cis, queer woman making art in and around Baltimore, MD + Washington, DC — on unceded Susquehannock, Piscataway, and Nanticoke land. I have OCD + RBF, a killer therapist, and a medical cannabis card. I love eating pizza, doing late night internet deep dives about cryptids + hauntings, and wandering around looking at street art.

I've been making art since I was a toddler and — after detours into stage management + working at a national arts service organization — I started selling my art in April of 2018, quit my job in August of 2018, and have been trucking along ever since.

Galaxy Brain Design finally got its name in July 2020 when I took an edible in the afternoon and thought "how do I combine outer space + inner monologue?" Now we sell online, in juried craft fairs, at Pride events, and in retail stores via wholesale. I also regularly get to collab with my two favorite Hannahs: the Hannah I am bound to by marriage + the Hannah I am bound to by a manic dog and a Vampire Diaries podcast. Here are some quick links to more of the story:
about the art

My personal art practice centers around mental health, bein' gay, and, idk, what it means to be a good person in a society? I work in both digital and analog formats and my work features a lot of natural elements like plants, celestial bodies, and geographical features, as well as stuff that's a lil' spooky and a lil' conspiratorial. I love a cryptid as a lens through which to view a community and an oddity as a way to learn about biology. My work is often. vaguely autobiographical and very honest.
b's ocd story + resources

A lot of my artwork and public speaking are related to my mental health, so I'm collected my thoughts and some resources here for other folks in a similar space.

I have been in therapy for pretty much as long as I can remember. I was diagnosed with ADD and misdiagnosed with Major Depression at a young age. I tried Prozac and Adderall and I hated all of it. I felt like I lost my personality. In 2011, when I was 22, my psychiatrist at the time realized I had General Anxiety Disorder, not depression, and proposed I might have OCD. I started taking Wellbutrin because I had such a bad time on Prozac and it worked. It worked for eight years.

There are elements of my OCD that didn't ever go away, but my symptoms became manageable. Until suddenly they weren't. Starting in 2018ish, my meds slowly stopped working and my symptoms slowly became worse. Over the course of 2019, a new psychiatrist tried upping my dose of Wellbutrin to see if that would work and it did not.

Thanks to an insurance debacle, I had to find a new psych and am grateful to have found Apex Counseling Center. Because I'm on Medicaid, I am entitled to free psychiatry as long as I go to therapy, which is also free. This is a total game-changer and I want to recommend them to anyone in Baltimore looking for mental health support.

My new psych tapered me off of Wellbutrin and put me onto Zoloft. I took Zoloft for a month and it did not work. At first, I was extremely nauseated and sleepy, which was likely from Wellbutrin withdrawal, but it also made me feel numb and anxious in cycles. When I went back to my psych, he stopped the Zoloft immediately. I took several days off to let the Zoloft leave my system and then I started Lexapro. Lexapro also made me numb and anxious in cycles. They were both SSRIs, which made me nervous, but it is the best class of meds for treating OCD and anxiety, so we had to eliminate it as an option. Ultimately, I ended up on Effexor, which is an SNRI. My doctor ended up supplementing that with an anti-depressant called Doxepin, which has helped me with my sleep and also managing some COVID-related depressive episodes, and I take Concerta for my ADHD. My brain's still not perfect, but it's functioning better than it used to. Stay tuned.

Some resources that might be helpful:

If you need to talk or have questions or would like to see me talk about something, you can do that! I'd love to hear how I can help.
about the name Galaxy Brain Design

If you spend a lot of time on the internet, you might be familiar with the galaxy brain — or expanding brain — meme.

As you can see here, it's several panels of cheesy New Age images, each depicting a mind more blown than the last.

Next to each panel, there's a series of "smart-sounding but nonsensical linguistic escalations," per NY Mag. "[The meme] itself evolved — from a meme about raw intelligence to a meme about argumentative sophistication."

Urban Dictionary tells us that the phrase "galaxy brain" itself is "derivative from the expanding brain meme, where the most absurd position/behavior/belief is derisively paired with the largest brain" Essentially it went from being a way to say someone is very smart, if a bit esoteric, to implying someone is the Ancient Aliens guy. 

What does that have to do with me, you know, aside from being very smart and a bit esoteric and, perhaps, well on my way to being the Ancient Aliens guy?

My brand is predicated closely on being my most honest self. A lot of my art is about navigating anxiety and OCD and interpersonal relationship and medication. I am a super cerebral person and I spend a lot of time inside my own brain. My therapist once told me that I was extremely self-aware and clarified that that was NOT a compliment. BUT! My brain is a super unreliable narrator. I craft conspiracy theories to explain why I feel bad and make unfounded assumptions about what's happening around me. My anxiety disorders convince me that my most extreme thoughts are revelations — my most absurd thoughts feel aligned with the biggest brain.

I also think space is dope.

So: Galaxy Brain Design, LLC is here and I'm opting to celebrate the most honest version of myself. I had a good run as bridget makes stuff and I'm grateful for the opportunity to figure out who I am and what I'm about unencumbered by anything but my name and my propensity to make stuff — and I'm thrilled to be kicking off this new chapter! You can stay up-to-date by subscribing to my newsletter in the footer